The Beach
Weymouth is an award-winning sandy beach overlooked by a magnificent Georgian seafront, located at the heart of the Jurassic Coastline. This sheltered bay has a gradually sloping seabed and clean waters for swimming and water sports, making it an ideal destination for families and visitors of every age. Alongside a wide range of catering outlets, there are traditional attractions including pedalo boats and a land train, as well as impressive sand sculptures during the summer months.
Weymouth's thriving shopping area is just a short stroll from the award-winning beach, while the nearby historic harbour is overlooked by quaint restaurants, cafes, craft shops and beautiful pastel-coloured houses. The beach also hosts regular events, including festivals, sporting occasions and firework displays.
Weymouth Town Council Beach Attendants and RNLI Lifeguards patrol the resort beach between May and September to make sure that whether you want to experience a bucketful of fun, get your feet wet or just soak up the sunshine, Weymouth beach is the place to be!
There is no cycling on the Promenade between 10:00am and 5:30pm between 1st May and 30th September.
Weymouth Seafront Webcam
Facilities
Toilets
Toilets, 3 outdoor showers on the beach office building and toilets for disabled visitors, see our toilet locations
Amusements
Many seasonal attractions and stalls, deckchairs and a free summer entertainment programme July – August
Food & Drink
Beach side refreshment kiosk, on site cafe/restaurant picnic site
Transport
Car parks nearby, close to railway station & on bus route
Address
Weymouth, Dorset, DT4 7AN
Accessibility
Accessible to wheelchair users, disabled access to the beach with parking areas for disabled visitors ramp/level access. Beach wheelchairs are available to be hired subject to availability. Please use the contact form to enquire or call the Beach Office on 01305 239832
First Aid and Lifeguards
From May to the end of September, RNLI Lifeguards patrol Weymouth Beach providing advice, first aid and keeping you safe. Please heed any signs and always swim between the flags
Lost Children
The Town Council and Lifeguards work together to provide a lost children service. Wristbands are available to assist in re-uniting lost children – just ask a member of staff or a lifeguard during your visit.
Deckchairs, Windbreaks and Sunbeds
A hire service operates throughout the summer between 10am and 5pm weather permitting. Current charges per day or part day hire: Deckchair £3 Windbreak £5 Sunbed £8 Parasols £7 Deposit £0.50 Deckchair saver ticket £12.50
Award winning waters
We are proud to say that we are a Blue Flag award winning beach. The iconic Blue Flag is one of the world's most recognised voluntary eco-labels awarded to beaches, marinas, and sustainable boating tourism operators. In order to qualify for the Blue Flag, a series of stringent environmental, educational, safety, and accessibility criteria must be met and maintained.
Awards & Recognition for Weymouth
Weymouth is a multi award-winning town which is recognised as being one of the top destinations in the country. The hard work of staff and local businesses means that our town regularly receives recognition for its excellent beach, parks and town centre. Below are just some of our recent achievements:
Purple Flag Award
Weymouth has been awarded the Purple Flag. The town is one of over 70 towns and cities across the UK and Ireland who have been awarded with Purple Flag status for their achievements in helping people have a great night out while staying safe. The town went through a rigorous schedule including the setting up of a working group to involve all partners and stakeholders, self-assessment and submitting a final application with Weymouth passing all 30 Purple Flag criteria as well as decreasing crime statistics. Additionally, Weymouth has been able to show that it is providing appropriate transport, has a vibrant appeal and is a stimulating destination with a strong sense of partnership working.
Find out more information about this award here.
Green Flag Award
Weymouth have been recognised as being among the UK's very best green spaces by the Green Flag Award. Sandsfoot and Greenhill Gardens have received the prestigious award, which is the mark of a quality park or green space.
More information about the award can be found here.
Blue Flag Award


Blue Flag is an international award presented to well managed beaches with excellent water quality and environmental education programmes.
Weymouth is one of 71 beaches in the country to receive this award. Information about the Blue Flag can be found here.
Seaside Award


Seaside Awards are presented to the best beaches in England and celebrate the quality and diversity of the coastline.
137 beaches have been given this award, with Weymouth Beach being one of these. More information about this award can be found here.
4th Best Seaside Town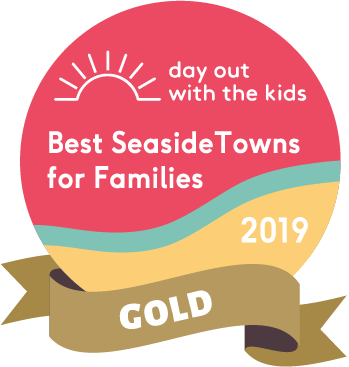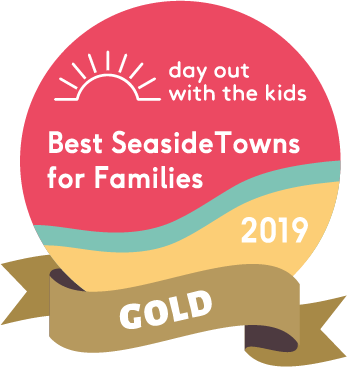 Weymouth has been ranked as the 4th best seaside town for families in the UK by dayoutwiththekids.co.uk.
This puts Weymouth in the prestigious Gold category, which is awarded to the 10 most clean, safe, fun and beautiful seaside towns in the country.
Click here to find out more about this award.
No.1 Beach from Cosmopolitan
Best-selling magazine Cosmopolitan ranked Weymouth as the number one beach for a UK staycation.
This decision was influenced by data from TripAdvisor, the full article can be found here.
2023 Bathing Water Profile for Weymouth Central
Current water quality classification is Excellent, based on samples taken from 2018 through to 2022.
Click below to find out more.
Dogs on Beaches
No dogs are allowed on Weymouth and Greenhill beaches from 1 May to 30 September inclusive.
Dogs are permitted all year round in restricted areas:
Greenhill Groyne to Overcombe
Bowleaze Cove
Dog exercise area (next to Weymouth Pavilion)

Report an incident of dog fouling
You can report dog fouling to Dorset Council by completing a short online form.
Promenade Artistic Lighting Scheme
A lighting scheme consisting of 28 computer-controlled LED strips launched at the end of 2019. The lights are situated along the promenade between the Pier Bandstand and the Pavilion, lighting up Weymouth bay with a series of lighting programmes inspired by the local community.
Find out more about the scheme here.
Swannery Car Park
Spaces
894 Total, 27 Disabled, 3 Motorcycle
Payment
Cash, Card, Phone, Online/App
Pay by Mobile
Location no.6204
Height Restriction
None
Open
24 hours 7 days a week
Sat Nav postcode
DT4 7TY
Pavilion Car Park, main
Spaces
479 Total, 10 disabled, 1 motorcycle
Payment
Cash, Card, Phone, Online/App
Pay by Mobile
Location no. 6200
Height Restriction
None
Open
24 hours 7 days a week
Sat Nav postcode
DT4 8DZ
General Information
The Beach Office is contacted via several means with a wide variety of requests, queries and reports. The office is also open to the public 7 days a week between May and September so face to face customer contact is a regular occurrence. Please see the Beach Office phone number and email address below:
Phone: 01305 239832
Email: Resort@weymouthtowncouncil.gov.uk
Corporate partners such as Dorset Police, RNLI, Coastguard, Dorset Waste Partnership, commercial tenants and other council departments will often contact the beach office for numerous operational reasons. In addition, with the telephone number being publicly displayed across 3 miles of seafront, members of the public will regularly call for general information, make bookings, request assistance, report anything suspicious, hazardous, anti-social or damages.
From booking a beach wheelchair, charity stall, event space or memorial bench to reporting anti-social behaviour, unauthorised encampments – when our phone rings it can be anything. We work closely with our emergency service partners who will inform us of any relevant missing persons (MISPERS) or "concern for welfare" cases that we may come across along the seafront, request feedback on active incidents, as well as various medical emergencies and/or evacuations that we need to coordinate.
In fact – anything from a lost child/wife/husband to a lost phone; an injured person to an injured seagull, complaints about people's behaviour and much more.
Beach Tents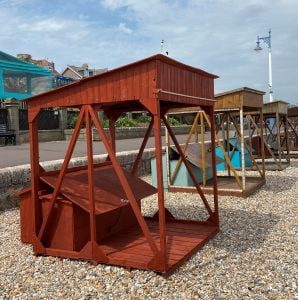 Beach tent sites are available to hire at Greenhill beach each year from April – October. Tenants need to provide their own Beach Tents, which need to be built to a set specification. For more information please contact: office@weymouthtowncouncil.gov.uk
Advertise on Weymouth Seafront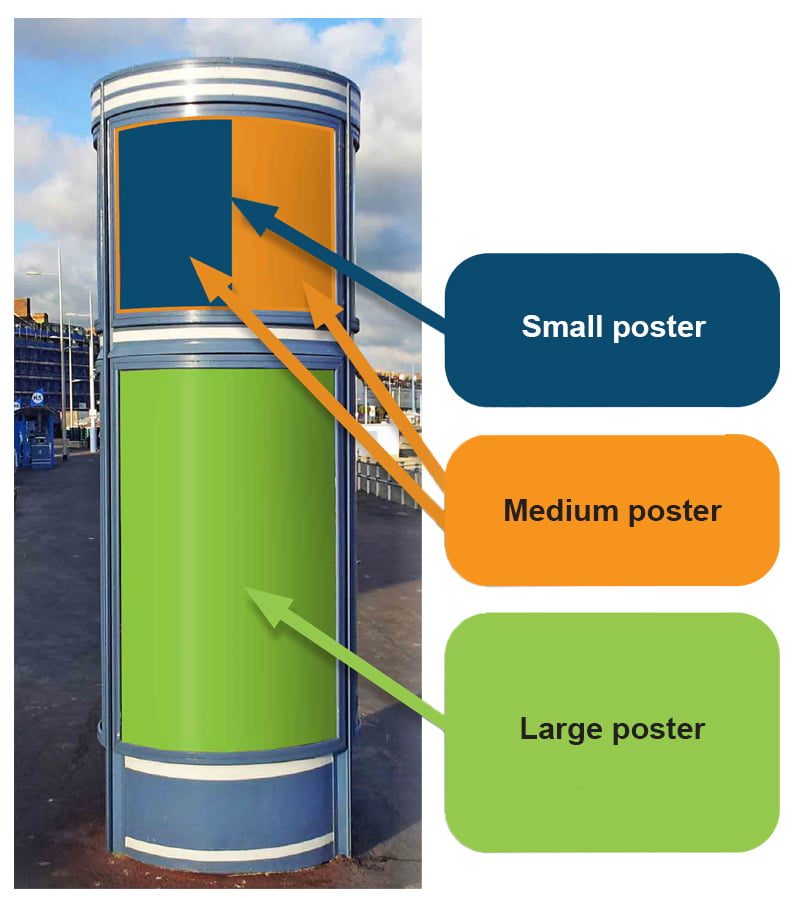 Promote your business to nearly one million visitors per year!
We have a total of 12 advertising drums in key locations in Weymouth, with high footfall from local people and visitors to the area.
11 are positioned along the Esplanade on Weymouth's bustling seafront. The final drum is located at Lodmoor Country Park.
We also have Advertising Banners situated at 3 locations across Weymouth Seafront!
Click here to find out more about these advertising opportunities.
Downloads