Working with the Friends of Radipole Park to improve facilities that will enhance community use in the future.
---
Tumbledown Community Growing is a 27 ache former farm being transformed into a community asset by local residents, volunteers schools, colleges and community groups.
CLOCKHOUSE PROJECT
The wildlife- rich grasslands are biodiversity hotspots which support a  myriad of insects from bees and beetles to grasshoppers and butterflies. Insects like these are at the centre of the food web for larger wildlife, birds, bats, frogs, lizards and small mammals all depend on them. Whilst once common in the UK, these grasslands are now a rare sight, with 97% lost since the 1930's.
Weymouth Town Council manage over 80 ha of grassland across the town and are restoring and resowing wildflower patches to enhance them for wildlife. Wildflower areas have been sown in the Town's parks and gardens, and sections of the town's cemeteries are being managed to enhance biodiversity.
In 2022, funding received from Dorset Council enabled sowing of wildflower seed across wider areas of Weymouth's open spaces. Following consultation with Butterfly Conservation, 30kg of wildflower seed was sown across ten parches of amenity grassland using specialist equipment. Further sowing will take place in Autumn 2023. These areas will be managed to promote them for wildlife and closely monitored and hopefully full of colour and the hum of insects in the Spring. As part of the project, several smaller areas were prepared and sown by volunteer groups, who will monitor and help manage the sites.
QUEEN GREEN CANOPY WOODLAND AT LITTLEMOOR
In the winters of 2021 and 2022, Two hundred native saplings were planted by the local community at Louviers Road in Littlemoor to create a woodland copse. These trees will help mitigate against climate change, provide wildlife habitat, enhance the landscape and offer opportunities for local people to connect with nature. A memorial oak has been planted to celebrate the queen's jubilee (or sad passing?)
NOTHE OLYMPIC SCULPTURE
A bespoke sculpture was installed at the Nothe Gardens to commemorate the ten-year anniversary since Weymouth hosted the Olympic and Paralympic sailing events in Weymouth 2012. Designed by local artist Brendon Murless, it features the numbers of countries, continents, competitors and medals Team GB won in the sailing events and a boat based on Ben Ainslie's dinghy, Rita. Six pieces of Portland stone have also been used to create waves representing six continents. The sculpture was installed at the spot where spectators gathered to cheer on the competitors during the sailing events. It also provides the perfect backdrop for taking and sharing photos of Dorset's beautiful coastline.
LODMOOR TREE TRAIL
A new tree trail was installed in Lodmoor Country Park in autumn 2021 in collaboration with the Friends of Lodmoor Country Park. The trail highlights 16 trees in an easy, 45-minute loop of the park, engaging visitors with the natural environment whilst providing interesting facts about each species. Find out which tree's timber is best for making boats? And what species of tree was spread by squirrels? Or the best tree to plant outside your house to scare off witches? It also features a 'Wildlife Detectives' element for children. Copies of the leaflet are available to download from this website (check) or to pick up in the park.
CHILDREN'S COMMUNITY WOODLAND
Links Road open space in Westham has been transformed into a welcoming, accessible site for both people and wildlife. In the winter of 2020, 610 native trees were planted as part of a nationwide campaign to plant a tree for every child that started school for the first time during the pandemic. The trees will help mitigate against climate change, provide food and shelter for wildlife and create a natural area for the community. Local children did a fantastic job of creating a giant 'bug hotel' out of wooden pallets and natural materials to provide a home for a range of insects and other creatures, particularly over the winter months.
An accessible path was installed to enable year-round access for all. This has been much appreciated by the local community, and particularly benefited the adjacent day care Centre for adults with special needs.
In spring 2022, funding was obtained by the Nature, Art and Wellbeing Community Fund to install outdoor musical instruments including a xylophone and chimes. These are available to be used by all and particularly benefit users of the Ridgeway Centre, opposite, which provides day care for adults with special needs.  
A series of community events held in the Community Woodland have proved extremely popular with the local community.
GREENHILL WILDLIFE DISCOVERY
A trail highlighting local wildlife was installed in Greenhill Gardens in 2020. Local artist Hannah Soafer, from the Portland Sone and Quarry Trust, carved eight animal sculptures out of Portland stone, which are hidden throughout the gardens to create a family friendly discovery trail. Clues and information about the wildlife are displayed in the gardens, or available on leaflets which can be downloaded. Greenhill Gardens have also been enhanced for wildlife by sowing two wildflower areas on the bank, which will provide nectar for pollinators such as bees and butterflies.
ST JOHN'S GARDENS
The Green Fingers Group has successfully applied for funding from the Pocket Parks Grant Scheme. They will work in partnership with Weymouth Town Council to encourage local people to have pride and take care of their local garden whilst helping to break down barriers between older and younger people. 
The project will help increase social inclusion, encourage horticulture skillset sharing, improve health and wellbeing, and, by working with local schools, introduce an art area. 
For more information on how you can get involved, please contact Siobhán Davis on tel. 01305 269214.
THE QUEEN ELIZABETH II CELEBRATION ARCHWAY PROJECT
An impressive Waves-shaped Arch at the entrance to Greenhill Gardens from the Esplanade was opened on 1 April 2019. The Celebration Arch commissioned by the Friends Group honours our longest reigning Monarch.
The Friends raised £10,000, including donations from Weymouth Rotary £300, Weymouth BID £500, a private donation £100 and Tesco's £1,000; the remainder has been raised via quizzes and events held in the gardens plus a £6,000 grant from the council. 
The Arch has been designed by Tina Walton and constructed by Simon Meiklejohn from Herefordshire. 
REVAMP OF SOUTHILL PLAY AREA
A full range of new play equipment has been installed and includes a variety of swings; one of which is an inclusive pod swing, a roundabout, a four seated spring see-saw, a multi-play unit, a climbing perch, a boat springer, a fish springer and two picnic benches. The total cost of the equipment was £51,665.
Drainage work has also been carried out to help alleviate flooding at the bottom of the play area.
MARSH MASTERPLAN
A bespoke new skatepark and parkour facility was installed on the Marsh in Spring 2022. The £358,000 park was built by renowned skatepark company Maverick and includes a wide variety of features to provide opportunities to skaters, BMXers and scooter riders to practise their skills. Alongside the skatepark is a separate parkour area, for the local free running community. 
Designs for the facility, produced by Maverick, were put out to consultation with feedback received from young people then incorporated into the final plans. The facility is extremely popular with both skaters and scooters, providing a community space that caters for all ages and level of experience.
The play area is suitable for children aged between 3-12 years and includes a climbing hut, a seesaw, a trampoline, a combination swing, as well as many pieces of equipment suitable for children with disabilities.
The new seating includes three benches located near to the football pitches. The new drop kerb is located on Emmerdale Close and will provide easier access for wheelchair users, mobility scooters and pushchairs.
FRIENDS OF THE MARSH
Friends of the Marsh was set up in October 2013 and works in partnership with Weymouth Town Council to improve and enhance this greenspace.
The Marsh is located on Knightsdale Road, Weymouth and has a multi-use games area and play area.
PROJECTS
Friends of the Marsh have been involved in various projects, such as creating a community orchard located behind the swimming pool.
In March 2017 the friends group received funding of £1000 to build raised beds. In addition, a further 12 trees were donated by the Woodland Trust. With the help and guidance from the head arborist, Dave Parry, a team of 5 planted saplings to create a mixed woodland of Rowen, Willow, Hawthorn and Birch.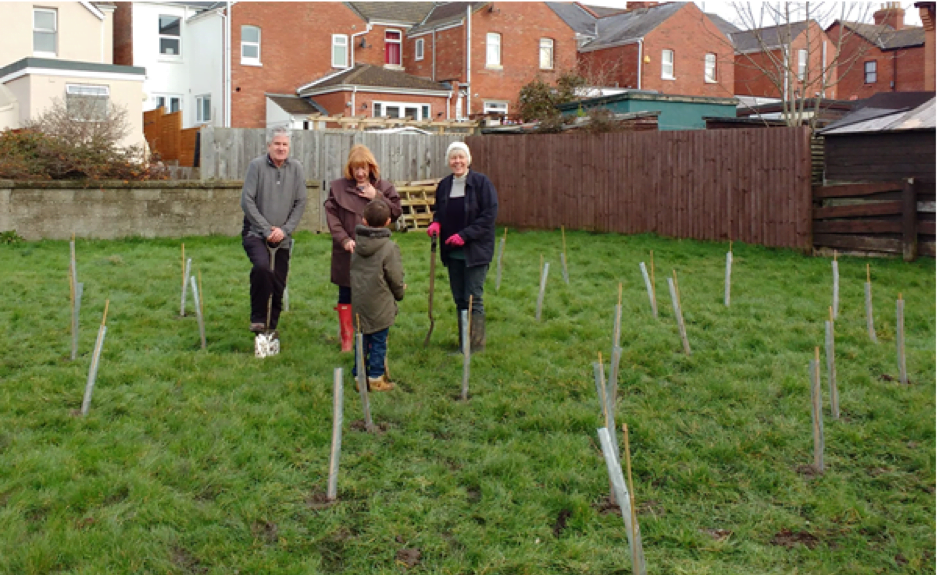 The friends group were involved in the planning of the Marsh Masterplan which included the installation of a new multi-use games area, play area, fencing, seating and drop kerb. These new facilities opened in September 2018.
The friends group were involved in the planning of the Marsh Masterplan which included the installation of a new multi-use games area, play area, fencing, seating and drop kerb. These new facilities opened in September 2018.
---
PARKS PROJECTS
Pardon the weeds…we're feeding the bees!
This spring and summer we are leaving some of our grass areas uncut. This allows wildflowers to thrive and supply nectar to pollinators such as bees and butterflies.  Long grass also provides habitat for a range of wildlife from insects such as grasshoppers to small mammals such as voles and shrews, which in turn become dinner for those further up the food chain. See if you can spot our 'Feeding the Bees' signs when you are out and about in Weymouth.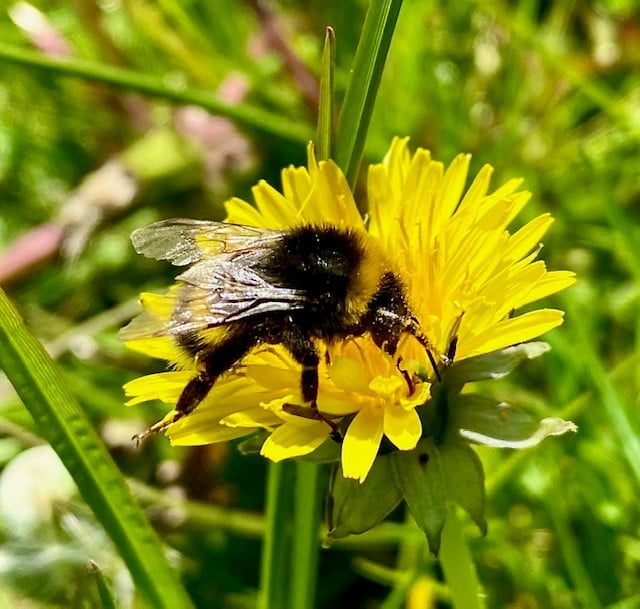 Greenhill Gardens Wildlife Discovery Trail
Eight beautifully carved Portland sculptures are being installed in Greenhill Gardens. They will be hidden around the gardens and feature locally found insects, birds and animals to be discovered as part of a family friendly discovery trail. Clues are available on the information board or download a leaflet from the WTC website. The carvings are by the Portland Stone and Quarry Trust. Greenhill Gardens have also been enhanced for wildlife by sowing two wildflower areas on the bank, which will provide nectar for pollinators such as bees and butterflies.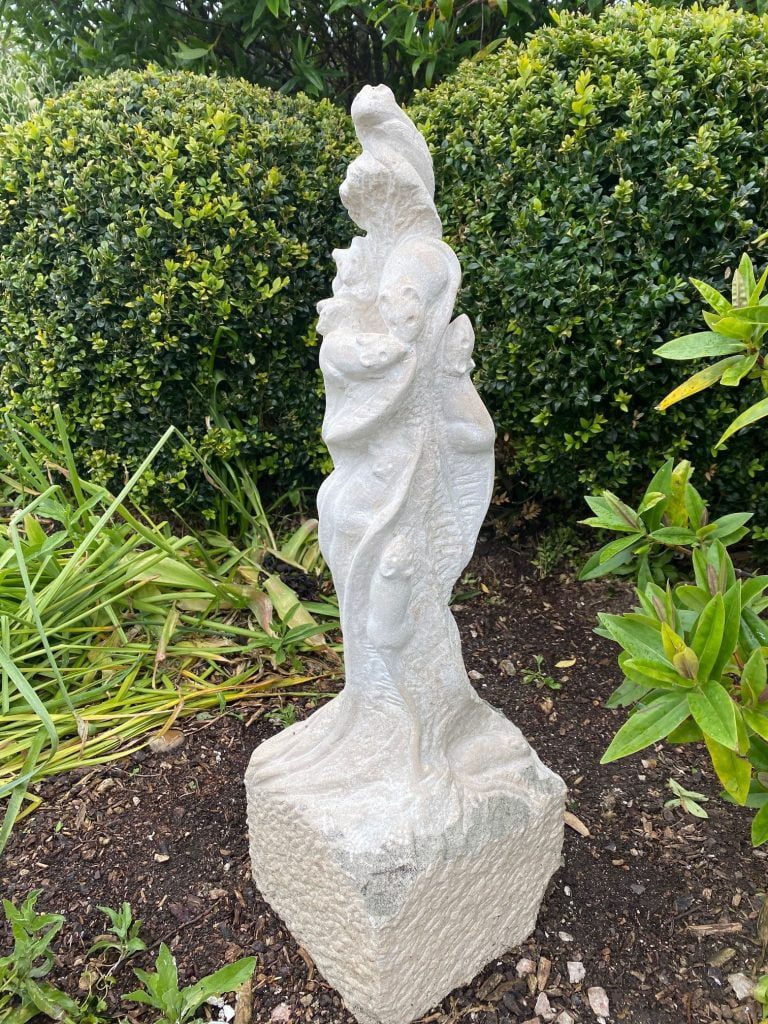 The Children's Community Woodland
There has been a tree planted for every child that started school in September 2020 during the Covid pandemic. 521 native wildlife-friendly saplings have been planted at our Links Road site in Westham over the winter of 2020/21. These will grow along with the children and provide a valuable resource for both people and wildlife in the future. Local schools and families will be invited to further help enhance the site for wildlife over the coming months.
The Marsh Skate Park and Parkour Track
An exciting new bespoke skate park and parkour area is coming to the Marsh. The draft designs from Maverick, a company which specialises in designing and installing skate parks, have been produced and went out to consultation with the public and are now being finalised. The skatepark aims to provide a community space that caters for all ages and levels of experience and will provide a important facility for the young (and young at heart!) in the Weymouth community.
Following an online consultation exercise, a revised set of visuals have been produced to incorporate the feedback residents provided.  On 2 August, between 3pm until 6.30pm, we are inviting local residents to pop along to the Marsh (on the field to the left of the entrance to the bowls club) to see the new design and tell us your views.  A copy of the parkour design will also be available to view.
The Marsh Concept 3 – 3D Visual