Weymouth Armed Forces
Armed Forces Celebrations 2023
Weymouth will host a three day celebration in support of our Armed Forces, past, present and future over the weekend of Saturday 17th, Sunday 18th and Monday 19th June 2023.
Our Armed Forces and Veterans have made and continue to make a significant contribution to our nation and the Weymouth event continues to honour, celebrate and provide a focus on the tireless work carried out by all veteran's associations, individuals and today's military forces.
A host of displays and information are available during the weekend, veterans and families are able to discover and receive the support available from the various agencies and organisations. Visitors to the event are able to learn, appreciate and support the important role played; and recognise the diversity of the Armed Forces, veterans and all service associations.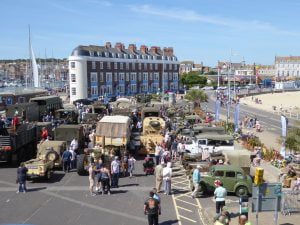 On the Saturday 17th June, over 60 historic military vehicles will arrive on Weymouth Seafront for an interactive display with the public being able to look around the vehicles up close and share stories. The day will also feature music of the era and awareness stands. Timings approx. 10:00am to 3:00pm.
Sunday 18th June, Armed Forces and Veterans Service and Parade day on Weymouth Seafront. The outdoor service take place around the Weymouth Cenotaph, followed by a Parade of all veterans along the Esplanade. The Service is hosted by the Mayor of Weymouth with a Deputy Lord Lieutenant of Dorset and other Military guests in attendance. Timings: Service takes place at 11:00am, followed by Parade commencing at approx. 11:20am.
On Monday 19th June, the Mayor of Weymouth will host the Armed Forces Flag Raising Ceremony at the Council Offices, The New Town Hall on Commercial Road, Weymouth, DT4 8NG at 10:30am.
If you or a member of your association would like to take part in the Service and Parade, please complete this Parade Participation Form. Once registered you will receive full details regarding forming up, Service and Parade details.