Weymouth Armed Forces
Armed Forces Celebrations 2023
Weymouth will host a three day celebration in support of our Armed Forces, past, present and future over the weekend of Saturday 17th, Sunday 18th and Monday 19th June 2023.
The main events will take place in the prime location on Weymouth Seafront.
Armed Forces Weekend 2022
In 2022, the festival commemorated the 40th anniversary of the Falklands Conflict.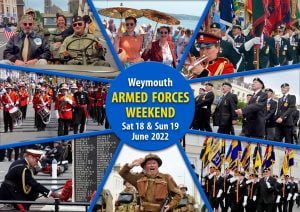 Our Armed Forces and Veterans have made and continue to make a significant contribution to our nation and the Weymouth event continues to honour, celebrate and provide a focus on the tireless work carried out by all veteran's associations, individuals and today's military forces.
A host of displays and information were available during the weekend, veterans and families were able to discover and receive the support available from the various agencies and organisations. Visitors to the event were able to learn, appreciate and support the important role played; and recognise the diversity of the Armed Forces, veterans and all service associations.
On the Saturday 18th June, over 60 historic military vehicles arrived on Weymouth Seafront for an interactive display with the public being able to look around the vehicles up close and share stories. The day also featured music of the era and awareness stands.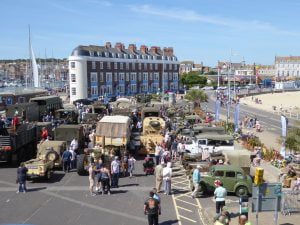 Sunday 19th June was a more formal day with an outdoor service and parade at the Weymouth Cenotaph. Annually more than 1,500 participants are formed up at the service area, which was hosted by the Mayor of Weymouth with a Deputy Lord Lieutenant of Dorset in attendance.
At 11:00 am, just prior to the Service commencing, there was a hurricane flypast from the Battle of Britain Flight Aircraft across the Seafront at 11:00 am. 
Following the service, the parade of all veterans was lead by the standard bearer, followed by the local cadet divisions and historic military vehicles. The seafront route has previously welcomed over 20,000 spectators who give a heart-warming cheer as the parade passes through. Each division is lead along the seafront by a marching band and then these bands undertake performances throughout and after.
On Monday 20th June, the Mayor of Weymouth hosted the Armed Forces Flag Raising Ceremony at the Council Offices, The New Town Hall on Commercial Road, Weymouth, DT4 8NG.