Welcome to Tumbledown
Tumbledown is a beautiful 27-acre former farm owned by Weymouth Town Council. We are developing the land into a community asset by producing and selling local fruit and veg, supporting people with volunteering and learning opportunities, and protecting our local environment for the benefit of our community. Our vision for Tumbledown is to create:
"An inclusive greenspace which nurtures the life-giving environment to support community led growing, learning and well-being, now and for future generations."
The story so far
Tumbledown is a small but richly diverse location in Radipole, managed for people, planet and wildlife using permaculture principles. The meadows, woodland and reverting wetland are tranquil places, home to wildflowers, birds, insects and the ancient trees of the future. Yet the farm is a hive of activity with diverse sectors of the community, including vulnerable adults who work on the land growing and processing food and learning new skills together.
A wide variety of fruit and vegetables are flourishing in well-tended plots in the fields rising up above the tool sheds, workshop and community kitchen and the young orchard, which is beginning to look established.
Grasslands have been restored and are now flower-rich, organic hay meadows that are enjoyed by picnickers and people who use the surrounding nature trails.
In the centre of the site, the woodland is beginning to show more structure as a result of some careful thinning and has broadened out with some new, more varied planting.
The restored buildings on the site – powered by green energy with re-purposing and recycling systems, are a hub for green education.
The Swallow Barn is our main building for any meetings. And our tool shed is gradually expanding, and all our activities are risk assessed to ensure your safety at all times.
Our Values – what's important to us is that we create:
A space that promotes physical, emotional and spiritual well-being.
A place that respects and protects the environment for future generations.
An inclusive venue that offers equality of access and opportunity.
A sustainable environment modelled on social enterprise principles.
An environment that protects and nurtures biodiversity.
A centre that show-cases the natural, historical and archaeological significance.
Weymouth Town Council has declared a Climate and Ecological Emergency. The Tumbledown project is being developed in ways that support the environment and its biodiversity, to help reduce our carbon footprint by permaculture approaches to managing the land and producing food. Permaculture is a way to get the most from natural resources that meet human needs whilst enhancing biodiversity and reducing our impact on the planet.
Community Grow Spaces
Part of Tumbledown is dedicated to Community Grow Spaces. These are not allotments but dedicated areas for community groups to grow vegetables and fruits that support Tumbledown's vision. They offer vulnerable people, or groups wishing to grow food sustainably, the chance to take advantage of this opportunity. Communal gardening tools can be provided for groups to use at any time.
Apply for a Community Grow Space by emailing tumbledown@weymouthtowncouncil.gov.uk
Friends of Tumbledown
We have a Friends of Tumbledown volunteer community group, helping us to grow crops for our VegBox Scheme as well as organising events and fundraising. As a volunteer you will be an integral part to the work on the site and helping to make the project a success. Visit our Facebook group to find out more!
How to find us
Address: Tumbledown, Radipole Lane, Weymouth DT4 9RU
(What Three Words-hothouse.freezing.clipboard)
Tumbledown lies off Radipole Lane, which is signposted as you approach the site and on the main entrances. If you are coming by car, please note that there is limited space on site for parking and you may need to park down at the bottom of the hill.
If you are cycling to the site, we do have areas where your bike can be locked.
If using public transport, get the Number 2 or Number 10 bus to the Famous Old Spa bus stop. From this bus stop it is around a 15-20 minute walk.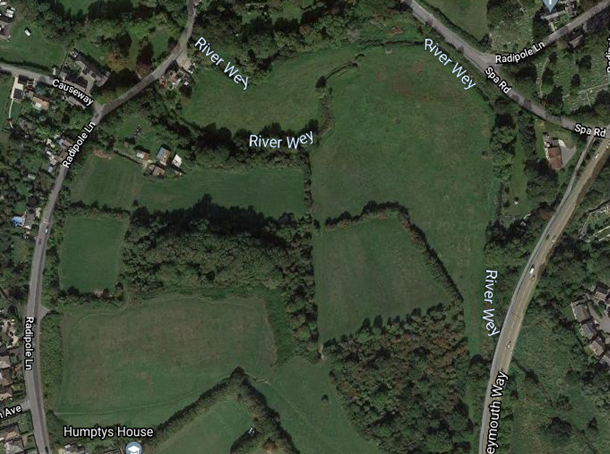 Click here to find out how we protect your data.