Who can help you during the coronavirus pandemic
24th March, 2020
Last updated at 2.58pm on 6th April 2020.
Weymouth Town Council are working hard in our communities to make sure you have access to the information and support that you need. We're supporting projects across the area as well as helping to fund local charities and community groups. So far we have allocated:
£1,000 to Weymouth Food Bank
£2,000 to Keep In Touch
£500 to The Lantern Trust
£500 to the Veterans Hub
£500 to the Littlemoor Project
We're also pulling together all of the local information that we can find and putting it on this webpage so that you can access everything in one place. Please let us know if there is anything you want us to add.
We are here to support you, contact us through email on office@weymouthtowncouncil.gov.uk or by phone on 01305 239839.
UK Government & NHS
The UK Government coronavirus (COVID-19) page will keep you up to date with how the government is responding, and includes guidance on social distancing and staying at home. Please ensure you stay up to date on the latest announcements and guidance from the government.
The UK NHS Coronavirus (COVID-19) page includes a wide range of health related information. This page gives clear information on when people need to self-isolate and how long for.
You can also complete this survey to help the NHS understand more about how and where coronavirus (COVID-19) is affecting people currently: www.nhs.uk/coronavirus-status-checker
A full range of business support measures have been made available to UK businesses and employees. This page helps businesses find out how to access the support that has been made available, who is eligible, when the schemes open and how to apply: www.businesssupport.gov.uk/coronavirus-business-support/
Dorset Council
Please click here to visit Dorset Council's main coronavirus webpage.
Dorset Council have set up a helpline to support vulnerable people who don't have any support networks available to them: 01305 221022, open from 8am to 8pm, 7 days a week.
Guidance and information on the co-ordinated community response in Dorset can be found on Dorset Council's website here: www.dorsetcouncil.gov.uk/emergencies-severe-weather/emergencies/coronavirus/co-ordinated-community-response.aspx
Dorset Council's business support page can be found here: www.dorsetcouncil.gov.uk/emergencies-severe-weather/emergencies/coronavirus/businesses-and-employers.aspx
Dorset Digital Hotline
If you're feeling a bit lost in this new digital-only world, help is on hand from the Dorset Digital Hotline. From Monday 30 March the new helpline will be available from 10am to midday each weekday – with no question too small.
Do you need help to use eConsult to reach your doctor's surgery, or wonder whether video conferencing, like Skype, could keep you in touch with your grandchildren? Are you working out how to work from home, or how to use online computer resources to help your children learn?
Anyone can call the Dorset Digital Hotline with an IT question on 01305 221048. More information about this scheme can be found here: https://news.dorsetcouncil.gov.uk/2020/03/27/digital-champions-ready-to-help/
NHS Volunteers
The NHS is "rallying the troops" for the war on coronavirus, with volunteers being called up to help vulnerable people stay safe and well at home. The nation is looking for up to 250,000 volunteers to help up to 1.5 million people who have been asked to shield themselves from coronavirus because of underlying health conditions.
Members of the public can sign up quickly and easily at www.goodsamapp.org/NHSvolunteerresponders to become NHS Volunteer Responders, and can be called on to do simple but vital tasks such as:
– delivering medicines from pharmacies;
– driving patients to appointments;
– bringing them home from hospital;
– or making regular phone calls to check on people isolating at home.
To find out more, please click here: www.england.nhs.uk/2020/03/your-nhs-needs-you-nhs-call-for-volunteer-army/
Dorset Community Action
Dorset Community Action is a charity that exists to support charities, voluntary groups and social enterprises across the local community. They are committed to helping your charity, community group or social enterprise through these unsettled times. They have set up a dedicated coronavirus helpline, which can be found here alongside further information and resources: www.dorsetcommunityaction.org.uk/covid-19-updates/
Volunteer Centre Dorset
If you would like to volunteer to support your local community and local organisations, please contact Volunteer Centre Dorset: www.volunteeringdorset.org.uk/covid19
Weymouth Community Volunteers
Volunteers are on call to help with shopping requests or possible dog walking. The phones are only being answered between 10am and 11am for requests: 01305 830255
Veterans Hub
The Veterans Hub continues to support the local military community and is delivering parcels of food and other essential goods to veterans & their families.
To donate items or to find out how you can access this service, please phone 07387 739628 or email theveteranshubweymouth@outlook.com. Further information can also be found on their Facebook page.
The Lantern Trust
The Lantern is an independent registered charity that was founded in 1983 to help vulnerable and marginalised people in the Weymouth & Portland area. Their customers have a varied range of personal concerns including mental health problems, offending behaviour, addiction, homelessness and all personal crises. They aim to meet these needs through a wide range of services including advocacy, crisis response, front line practical assistance and welfare benefits, housing & accommodation support and help through the Lantern's assisted rent deposit scheme.
Apart from their drop-in sessions, they continue to offer a full service. To get in touch with them, please visit their website: www.lanterntrust.org.uk
Refresh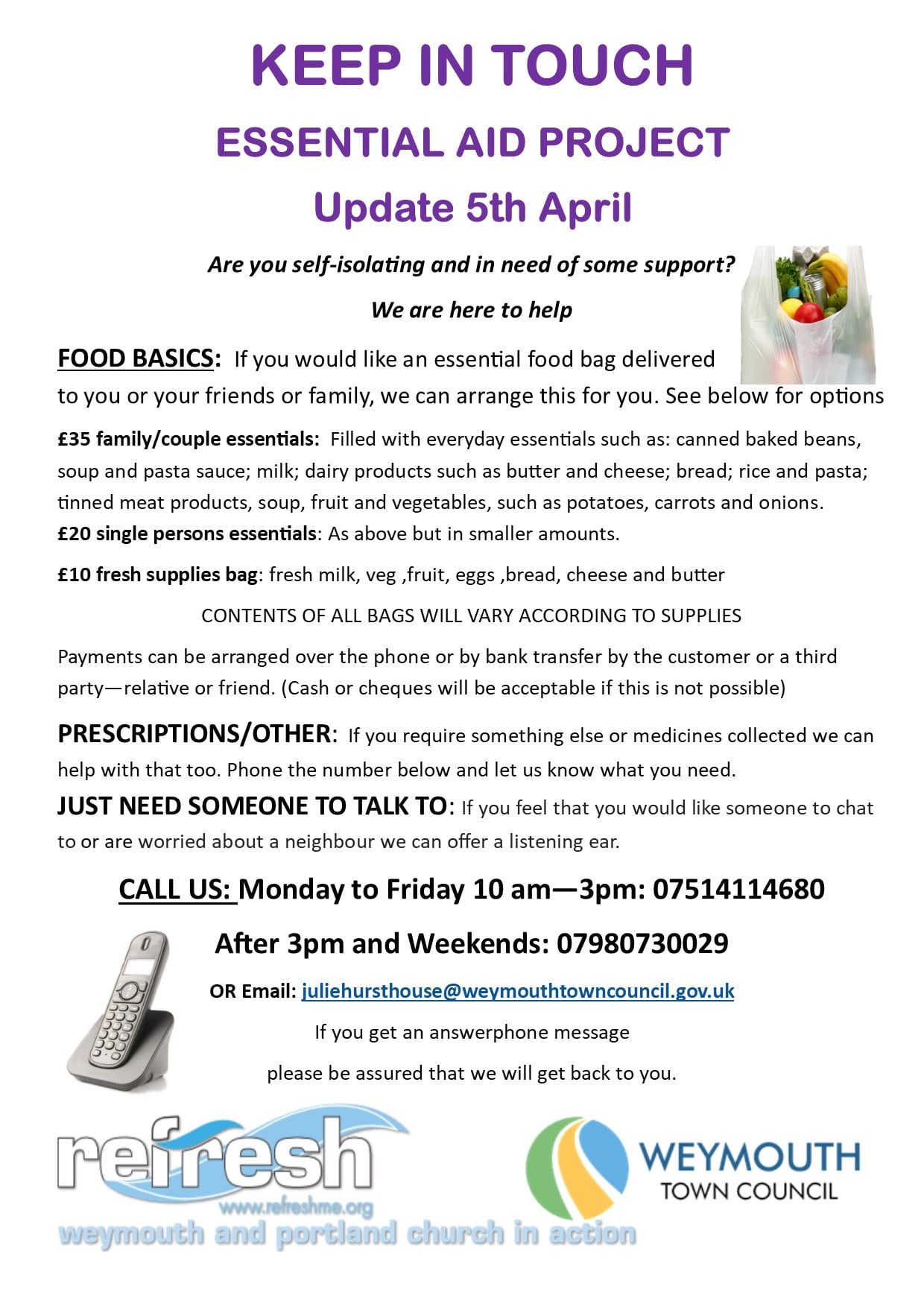 Refresh, with support from Weymouth Town Council, is supporting people in the local area who are in self-isolation.
If you would like to be part of the team of volunteers, please call 07514 114680 (Monday-Friday 10am-3pm) or 07980 730029 (after 3pm and weekends).
Weymouth Food Bank
Weymouth Food Bank, located in Weymouth Baptist Church, is still providing essentials to those most in need. If you want to contact the food bank, please visit their website for the relevant contact details: www.weymouthbaptists.com/foodbanksinweymouthandportland.htm
Littlemoor Community Centre
Littlemoor Community Centre is now operating 7 days a week as a food supply and delivery point from 17:00-19:00. They are offering to deliver to those in self isolation including the elderly and those with underlying health issues. People can also come in to collect or donate supplies as well. Please call 07809 905412 to get in touch.
Age UK
Age UK North, South & West Dorset are supporting people of all ages in the local area with issues such as loneliness, isolation and in accessing essentials such as food and medication.
For contact details and to find out more, please visit their website here: www.ageuk.org.uk/northsouthwestdorset/
Other useful information can be found here: www.ageuk.org.uk/services/information-advice/guides-and-factsheets/
Citizens Advice Bureau
Citizens Advice continues to provide support to people in the local area who need advice in these difficult times. Free, independent and confidential advice and information whatever your question is available over the phone or through email. Their contact details can be found here: www.westdorsetca.org.uk/contact-weymouth-portland
Dorset Mind
As well as your physical health, it's important to look after your mental health during the coronavirus pandemic. Dorset Mind has published some information on how to look after your wellbeing, especially if you're feeling anxious and/or are having to spend extended periods of time at home: www.dorsetmind.uk/news/coronavirus-your-wellbeing/
Cruse Bereavement Care
With the new social distancing guidance, there are many tragic reports of people unable to attend funerals (or other grieving rituals) of loved ones.
In light of this, Cruse Bereavement Care provided some tips on what to do if you find yourself in this distressing situation:
STARS Dorset
The Dorset charity, Sexual Trauma and Recovery Services (STARS Dorset), is increasing the availability of its Telephone Support Line throughout the COVID-19 period.
STARS Dorset's Telephone Support Line is for anyone who has been affected by sexual violence such as rape, child abuse and sexual assault at anytime in their life. As well as the charity's existing clients, people who have not accessed their services before can call for support and those who are supporting survivors of sexual violence in a personal or professional capacity can also use the service. In addition, the charity will be increasing the availability of their online Live Chat service, which is available through their website, www.starsdorset.org.
The Charity's Telephone Support Line number is 01202 308855 and the service will be available at the following times: Mondays 10am -12pm and 3pm – 5pm, Tuesdays 10am -12pm and 3pm – 5pm, Wednesdays 10am -12pm, 3pm – 5pm and 7.30pm – 9.30pm, Thursdays 10am -12pm, 3pm – 5pm and 7.30pm – 9.30pm and Fridays 10am -12pm, 3pm – 5pm and 7.30pm – 9.30pm.
Southill Assistance Scheme
The Southill Assistance Scheme has been started by local Councillors, Pete Barrow, David Gray and David Harris, local businesses and numerous fantastic volunteers. The scheme is currently planning two services.
The first is a delivery service that residents can use to request the delivery of household essentials such as food, medicines, toiletries etc. The service is for any residents who have to isolate themselves at home and who do not have family and/or friends who can help. To make a delivery request, please call or text one of the following numbers:
David Harris – 07951 288 466
Pete Barrow – 07741 252 302
David Gray – 07889 752 224
The second is a phone contact service to help with isolation. The vicar of Emmanuel Church, the Rev Jo Haine, already has a team in place who offer a pastoral service. Any resident who is feeling isolated and in need of friendly chat is welcome to contact the team:
Rev Jo Haine – 01305 581 399
Norman White – 01305 774 167
Jill Miller – 01305 776 781
Dorset Chamber
Dorset Council has commissioned Dorset Chamber to provide information and a helpline with advice for businesses on dealing with the disruption caused by COVID-19. This can be accessed here: www.dorsetchamber.co.uk/business-support/coronavirus-covid-19/
A message to Weymouth Town Council business tenants
The Town Council recognises the hardship that our business tenants are going through at this unprecedented time and we wish to be able to support you as best we can.
Some of you may be experiencing difficulties in meeting rental payments and therefore in the first instance the Town Council will be deferring payments due to be made to the Council for the next three months.
We will also be in contact with you shortly so that we can discuss your particular circumstances; together with future arrangements and any additional support that we could provide to help you and your business.
The UK Government has a range of business support measures available to UK Businesses and Employees including grants, loans, rate relief, employee retention schemes etc. www.businesssupport.gov.uk/coronavirus-business-support/
Dorset Council's business support is also available – www.dorsetcouncil.gov.uk/emergencies-severe-weather/emergencies/coronavirus/businesses-and-employers.aspx
Can't find the help you need?
If you have accessed the above resources and can't find the help that you need, please contact communityresponse@dorsetcouncil.gov.uk.
The below councillors are happy to be contacted by those who are in need of support and are unsure of who to turn to. If you do not know who your ward councillor is or if your ward is not listed, please feel free to contact any of the below councillors:
| | |
| --- | --- |
| Name of councillor | Contact number |
| Cllr Kate Wheller (Wyke Regis) | 07850 060947 |
| Cllr Lucy Hamilton (Wyke Regis) | 07794 601834 |
| Cllr David Gray (Radipole) | 07889 752224 |
| Cllr Christine James (Westham North) | 07749 282337 |
| Cllr Richard Nickinson (Weymouth West) | 07768 016771 |
| Cllr David Northam (Wey Valley) | 07899 337730 |
| Cllr Colin Huckle (Weymouth West) | 01305 768467 or 07771 632551 |
| Cllr Mark Tewkesbury (Littlemoor) | 07817 039172 |
| Cllr Gill Taylor (Westham West) | 01305 779936 |
| Cllr Peter Barrow (Radipole) | 07741 252302 |
| Cllr Graham Winter (Wey Valley) | 01305 839100 or 07445 400037 |
| Cllr Jan Bergman (Preston) | 01305 246960 |