Weymouth residents invited to join free health walks and seated exercises
29th April, 2021
Weymouth Town Council are pleased to announce that the local health walks will be starting again from Thursday 6th May, and new free seated exercise classes for the less mobile will start on Wednesday 19th May.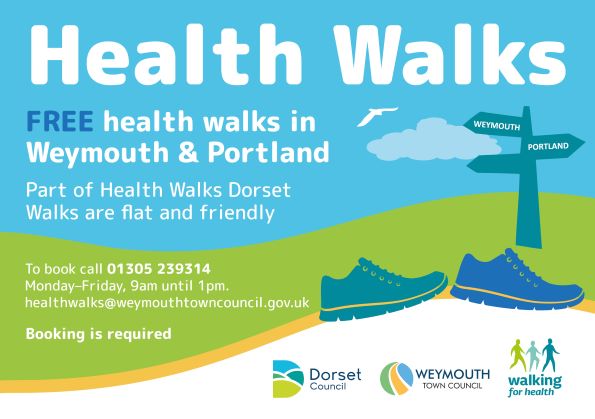 As lockdown restrictions began to ease, our volunteer walk leaders in Weymouth have been working behind the scenes to ensure the safe return of their weekly walks and have also planned some new walks to include the Promenade, Radipole Park Drive, and the Radipole Nature Reserve.
Through the Keep in Touch project, staff and volunteer leaders have been keeping in touch with many residents to keep them motivated and connected throughout the lockdowns.
Town Clerk Jane Biscombe said:
"Maximising the safety of our walkers is our top priority and we are very lucky to be able to use local parks and open spaces for our walks. This ensures that social distancing can be maintained, whilst giving our walkers the opportunity to renew old friendships. The new free seated exercises classes are a wonderful addition to the many activities that are being planned in Radipole Park & Gardens."
Councillor Gill Taylor said:
"We are resuming our walks in May and although it will feel different because of social distancing and the limit on numbers, it will be lovely to be able to see our regular walkers, some of whom have not met up with other people for nearly a year. We want to support our community by getting people out and about together in a safe manner, as this was highlighted as a great need whilst we were delivering the Keep in Touch project.
"The new seated exercise classes are another way of making sure that we are inclusive of all our community and take into account all abilities. As we age it can be extremely difficult to find motivation to keep fit. Seated games that involve exercise are great fun and always involves laughter. Even if you are a bit shy you soon make friends with everyone in the group. If you can't move around freely chair-based exercise is perfect. Everyone is welcome along and if you have a carer they are also invited to join in."
Walkers must book in advance and must not attend if they or anyone in their household is displaying symptoms of Covid. To book your place, please contact the bookings manager by phoning 01305 239314 or emailing healthwalks@weymouthtowncouncil.gov.uk.
If you would like to know more about the seated exercises classes, please phone Jackie on 07857 927190
For more information, please email office@weymouthtowncouncil.gov.uk.