Sculpture unveiling at community event marks 10th anniversary of Olympic and Paralympic sailing events  
29th July, 2022
To mark ten years since Weymouth took centre stage for the sailing events at the London 2012 Olympic and Paralympic Games, a commemorative sculpture will be unveiled at a community event.
The unveiling will be carried out by Cllr Ann Weaving, Mayor of Weymouth at 12pm on Friday 5th August at the Nothe Gardens. Ambassadors and torch bearers from London 2012 still living in and around Weymouth are encouraged to attend the event.
Weymouth Town Council worked with the Dorchester-based Arts Development Company to help commission artist Brendon Murless to create the sculpture (pictured above, working on the design).
The unique design features a boat styled on the one used by Ben Ainslie in which he won gold for Team GB at the Games. Ben is one of the most successful sailors in Olympic history, winning medals at five consecutive Olympics from 1996 to London 2012.
The sculpture features numbers and symbols inspired by the number of participants in the Games – 380, countries competing – 63, and the five medals won by Team GB in the sailing events. Portland stone has also been used to create six waves, representing six continents.
As well as the unveiling, a community event has been organised by Weymouth Town Council and people are encouraged to come along, bring a picnic, and enjoy a host of free activities between 11am and 3pm. These include children's mini-Olympic races, face painting, pebble painting, a mini nature trail and live music.
There will also be a display of information to find out more about services and projects run by Weymouth Town Council, and an opportunity to find out more about the Friends of the Nothe Gardens.
Cllr Ann Weaving, Mayor of Weymouth, said: "We wanted to commemorate ten years since the Olympic and Paralympic sailing events took place in Weymouth Bay and Portland Harbour. Nothe Gardens has been chosen as the location for the artwork because it's a reminder of the spot where spectators gathered in their droves to cheer on the competitors during the sailing events. It also provides the perfect backdrop for taking and sharing photos of Dorset's beautiful coastline.
"I also want to encourage people to join us at the community event running alongside the sculpture unveiling. Bring a picnic, take part in the family-friendly activities, and find out more about Weymouth Town Council's services and projects."
Artist Brendon added: "I have designed my sculpture to celebrate the 2012 Olympics sailing events in Weymouth and Portland, to tell a positive story about the participants and how they came from all over the world to compete here. When people look at the sculpture from Nothe Fort Gardens it will silhouette against the sea where the sailing events took place."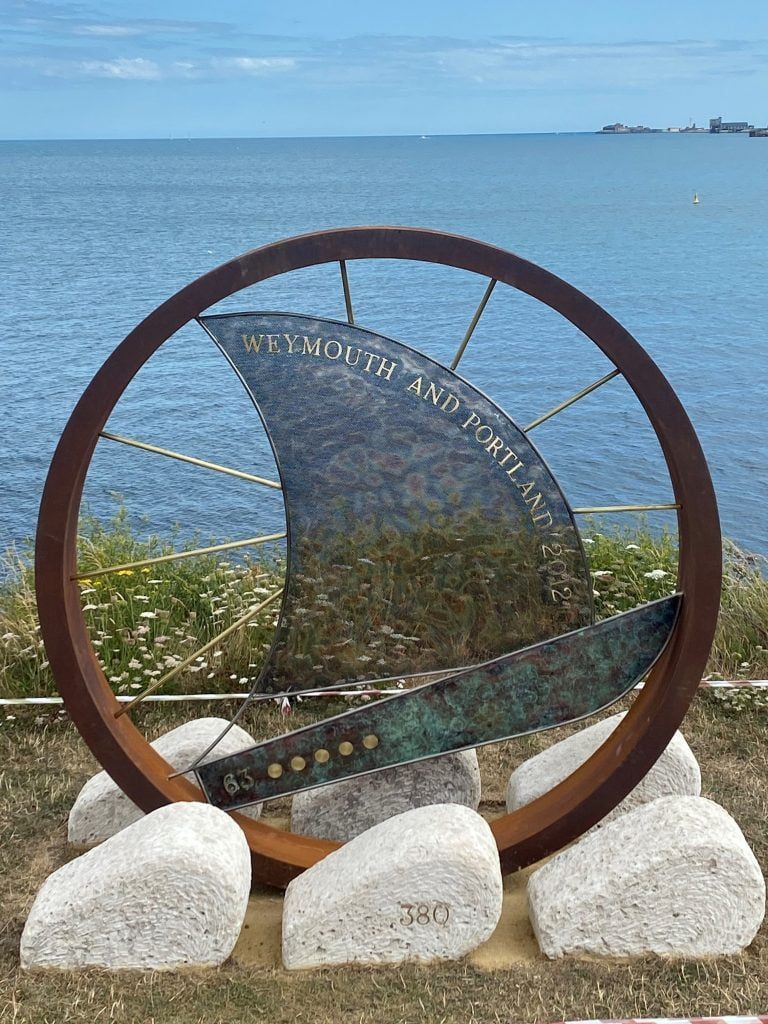 The new sculpture in place ahead of the official opening at the community event in the Nothe Gardens, Friday 5th August.
ENDS
Notes to Editors
For more details about Brendon Murless, contemporary figurative sculptor, visit http://www.brendonmurless.com/