Christmas in Weymouth 2021
From free parking in Dorset Council car parks in Weymouth on three key dates in the run up to Christmas, to a variety of events to keep everyone entertained, there's never been a better time to visit the town!
Free Parking
We are pleased to announce the following free parking dates within Weymouth at Dorset Council's car parks. Why not come into town and take part in the following events which are on the same days:
Saturday 27th November – Christmas Lights Switch On & Santa's Post Office.
Saturday 4th December – National Small Business Saturday plus Steam Punk and Elf School at Nothe Fort.
Thursday 16th December – Get those last minute presents and shopping for the big day.
Elf World Record
Weymouth will be kicking off the festive season with a world-record elf gathering attempt at the turning on of the town's Christmas lights – and residents are being urged to play their part by donning costumes to make it a success.
The festive lights will be officially switched on by the Mayor of Weymouth on Saturday 27th November. It's hoped around 2,000 elves will also gather in an attempt to beat the record for the most in one place. Come along to Millennium Square, New Bond Street from 3pm to join in the fun. Visit We are Weymouth website for further information.
Santa's Post Office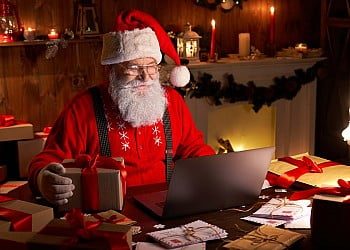 If you could ask Santa for anything, what would it be?
Join the elves and write your letters to Santa Claus, before posting them in a magical post box straight to the North Pole!
Santa's Post Office will be open at Brenda Dench House, Maiden Street, between 11am and 4pm on the following dates:
Saturday 27th & Sunday 28th November
Saturday 4th & Sunday 5th December
Saturday 11th & Sunday 12th December
Saturday 18th & Sunday 19th December
Visit We are Weymouth website for further information.
Elf School at Nothe Fort
In the run up to Christmas, starting on the 27th November, Santa is sending to Weymouth the naughtiest of his new recruit elves to learn from some good old fashioned Victorian military training at the Nothe Fort Elf School. They're a lively bunch so they need your help to keep an eye on them!
They have three year groups attending the elf-training programme: Green Elves, Red Elves, and Black Elves and they're all likely to be a bit of a handful. With so many mischievous elves avoiding their training by hiding around the fort each day, we need the best elf spotters to help find them.
Enjoy a festive holiday like no other as you explore the casemates and underground passageways of Nothe Fort, and keep one eye open for these naughty trainees.
Join the fun from the 27th to 28th November, 11am to 3pm. For further information please visit the Nothe Fort website.
Steampunk Festivities at Nothe Fort
Join the Ministry of Steampunk for Steampunk themed festivities at the Nothe Fort, including a number of exhibits, a steampunk market, fort tours and carolling.
Join them at Nothe Fort, Barrack Road between 10am to 4pm on Saturday 4th December. Visit We are Weymouth website for further information.
Steampunk Promenade & Market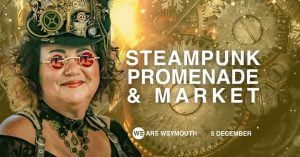 Join in with the Ministry of Steampunk at 11am on Sunday 5th December and promenade from the Jubilee Clock, through the town centre, before finishing at Alexandra Gardens, where there'll be a Steampunk market. Be sure to visit traders in Weymouth town centre too and look out for Steampunk window displays throughout the town.
Visit We are Weymouth website for further information.
Light Up A Life Service
Weldmar Hospicecare is delighted to announce that local Light Up A Life services will return across Dorset this year, after not being able to go ahead last year due to the Covid-19 pandemic.
Light up a Life is an opportunity to remember those closest to us – whether they were cared for by Weldmar, or not. When you dedicate a light, it will be placed on a tree in your chosen location and will shine bright until the 12th night.
Your loved one's name will be included in their 2021 Book of Remembrance and you will also receive a wooden star to keep at home, or to hang on the tree at the service.
This year, after careful consideration, they are delighted to be able to hold physical services at seven locations across Dorset in December. The Weymouth service details are: Hope Square – Sunday 12th December at 5pm. For further information please visit the Weldmar website.
Chase The Pudding
Santas, elves, a pantomime dame and many other fabulous festive characters will gather on Weymouth Beach (Pavilion end) to take part in the annual Chase the Pudding race on Sunday 19th December.
Registration is from 9.30am in the Weymouth Pavilion Ocean Room followed by a warm up at 10.45am on Weymouth Beach, with the race starting at 11am.
Everybody is invited to come along to cheer and support this exciting Christmas event on Weymouth seafront.
Following the introduction in 2019, both Mr & Mrs Pudding will now be chased along the beach by hundreds of Santas creating a great scene for the festive season.
The Chase the Pudding race is approximately 5km and is from the Pavilion end of the beach to the groyne at Greenhill and back again.
The Chase the Elf race for under 14s will start five minutes after the Chase the Pudding and is a 2km race to the Pier Bandstand and back.
All race entry fees and event sponsorship will go to the Will Mackaness Trust.

Christmas Day Swim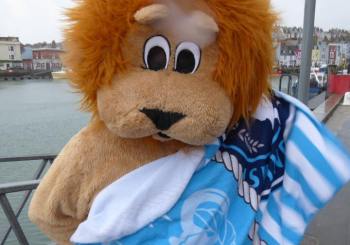 Weymouth & Portland Lions Club are pleased to announce the return of the Annual Christmas Day Harbour Swim. More details on how to enter will be available via the Weymouth & Portland Lions Club website and their harbour swim Facebook page.