Welcome to Weymouth Mural Trail!
Weymouth's Mural Trail is here! A partnership between Weymouth Town Council and We Are Weymouth.
Why not go on a journey around Weymouth and see how many striking artworks you can discover? From Overcombe to Lodmoor, to the town centre and South Harbourside, as well as the Nothe Gardens, there are plenty of hidden gems to find.
Complete the trail in one go, explore in stages, or do it all over again – it's up to you! And don't forget to share your photos. #VisitWeymouth #WeAreWeymouthUK
Without revealing the artworks in full, here's a sneak peek of the pieces, a map of the trail and insights from the wonderful artists who created them.
How to find the trail
Location 1 – Overcombe Corner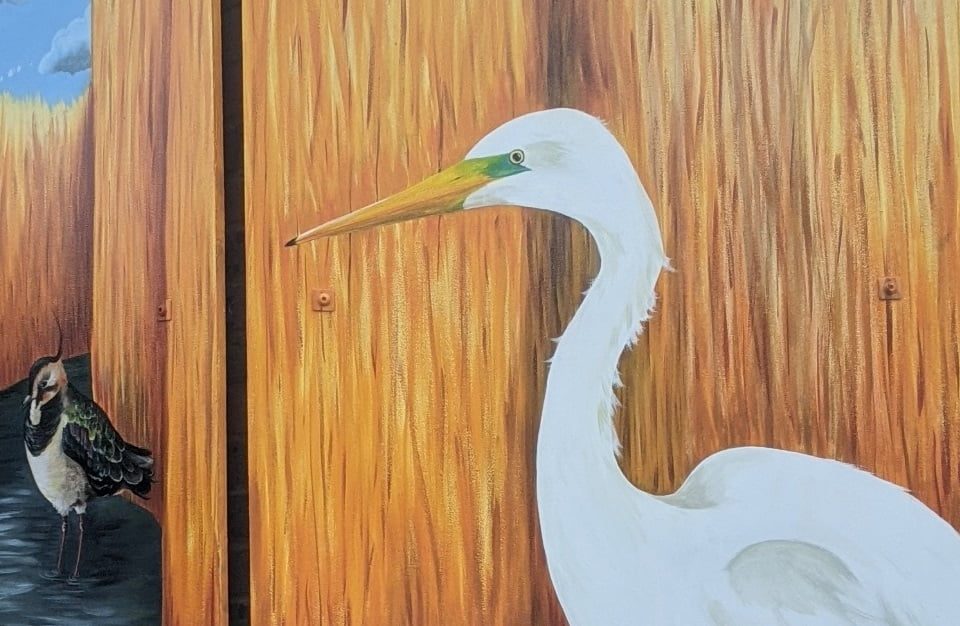 Mural story
Bridport-based Illustrator Delphine says: "As the location of my mural is right by Lodmoor nature reserve I wanted to create a colourful piece celebrating the variety of bird species the reserve supports and creates a haven for. My design just includes a few of the bird species found here – there are many more!
"Despite coming to Weymouth throughout my life I hadn't visited Lodmoor until 2021 and was mesmerised by the reserve's beauty and the diversity of wildlife it supports – all just a stone's throw from the beach too. I especially love to draw from nature, and hope that by creating a public artwork of the bird species in this area we can appreciate them afresh, and reflect on our combined efforts to protect the natural world for all species."
Location 2 – Greenhill Gardens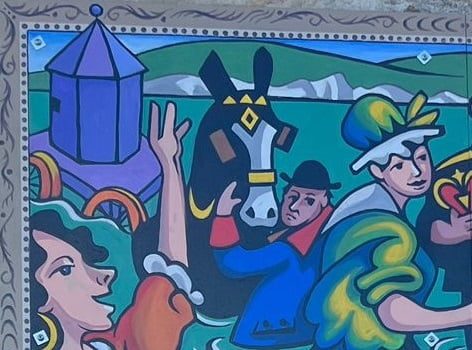 Mural Story
Hugh lives on a hillside on the outskirts of Bridport, and has worked as the artist in residence with the Royal Shakespeare Company. Hugh says: "In November 1788, King George III had an emotional crisis. He was a very accomplished monarch, and although labelled 'Mad King George', it is now understood that he suffered from bipolar disorder. The royal physician Dr Crane recommended the benefits of sea air, sea bathing and even salt water to drink as a tonic. Dr Crane claimed that his home town of Weymouth was the best place for the King to convalesce.
"In June 1789, the King and Queen brought their four eldest daughters to stay in his brother The Duke of Gloucester's house on the Esplanade. The King was made welcome throughout the town. God Save the King was embroidered on caps, painted on windows and even the life saver's waistbands. A royal bathing machine was made, a replica of which can be seen near the King's Statue."
Location 3 – Beach Operations Building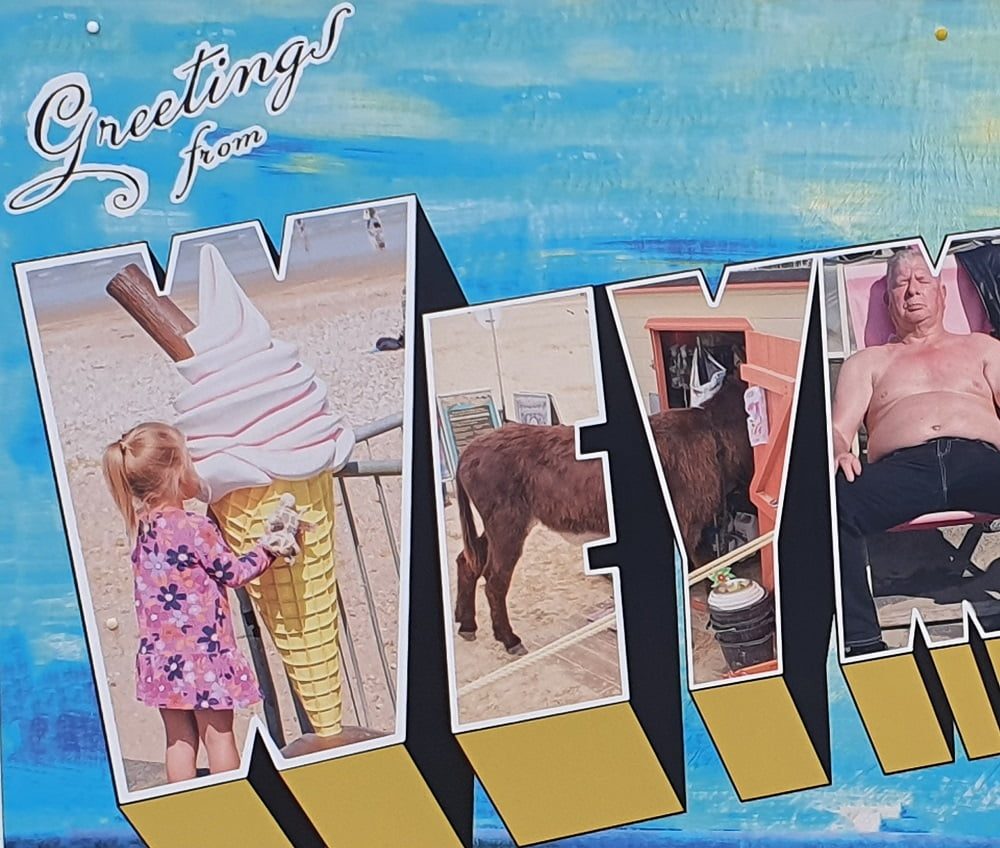 Mural Story
Si Jubb is a photographer and Weymouth resident whose bold, candid images celebrate the quirkiness and colour of modern life. Si says: "I wanted to honour the magical joy of the summer seafront in Weymouth, with a recognisable beach holiday related visual form. After debating fish 'n' chips and ice cream menus, I decided a postcard was a very suitable candidate. In art and design I have always found oversized versions of everyday items rather satisfying and I thought this was an enjoyable combination.
"My intention was to mix my modern photography with an established nostalgic structure, and after researching Curt Teichs 'Linen' postcards from the first half of the twentieth century, I set about making a new one for Weymouth. Finding suitable components for the work from period Weymouth guide books and directories, I digitally combined them with original acrylic and watercolour paint layers and computer assisted designed 3D letters, then inserted my photos within."
Location 4 – Weymouth Library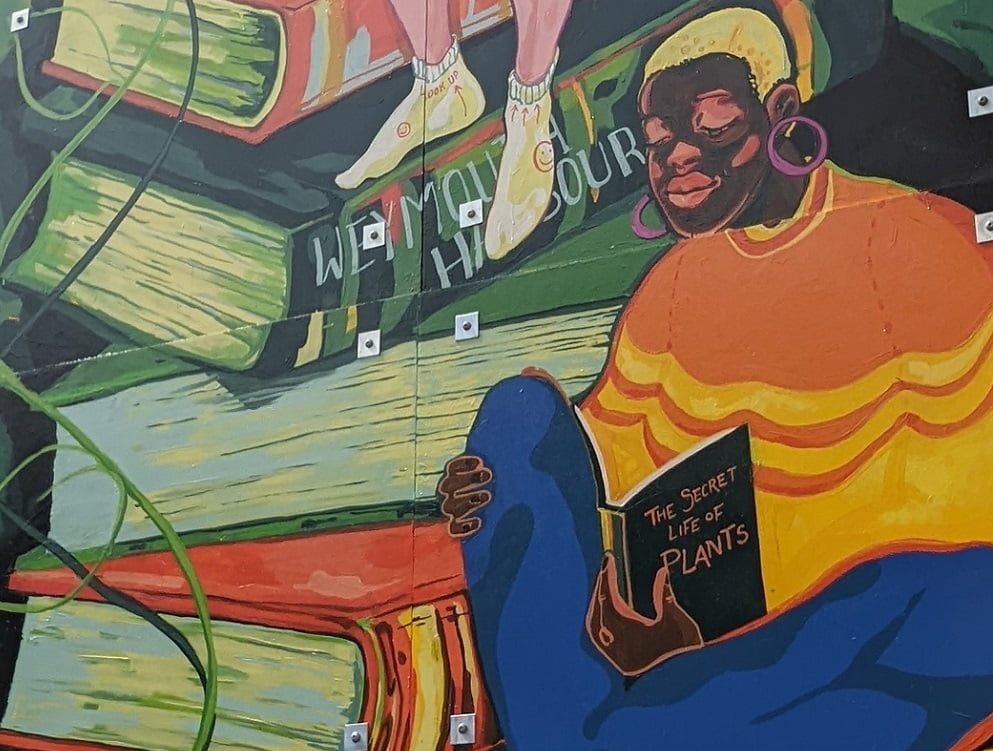 Mural Story
Marina grew up in Dorset and studied Fine Art Painting in Glasgow. Marina says: "This design was created for Weymouth Library.
"The original idea was to create a piece that would be engaging and colourful, celebrating the library as a place of community, connection and sharing of knowledge. Figures of all different ages and ethnicities sit together, nestled amongst a towering stack of books, reading, working, learning, helping one another.
"From the pages of an open book, a flower is growing, watered by children at the top of the pile of books. This symbolises the flourishing mind, seeds of thought developing and growing if they are nurtured. In the background the wallpaper depicts a ship in Weymouth Harbour, celebrating the town's maritime history and powerful connection to it's port and surrounding sea."
Location 5 – St Thomas Street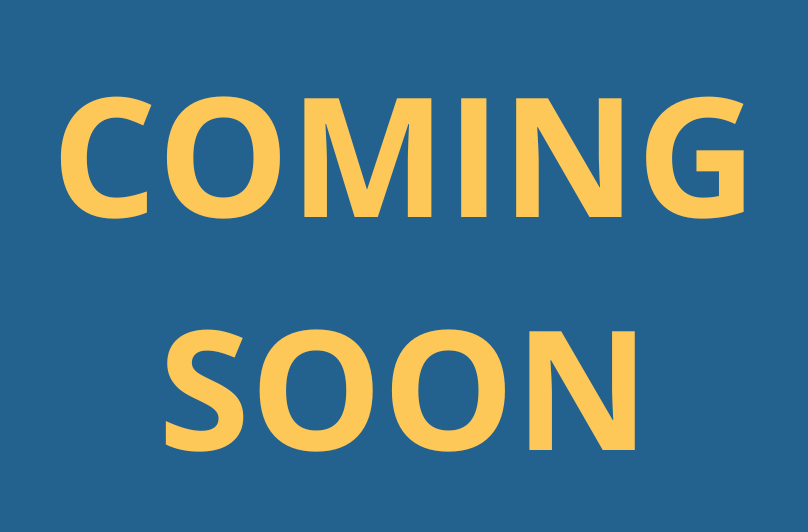 Location 6 – St Mary's Church Passage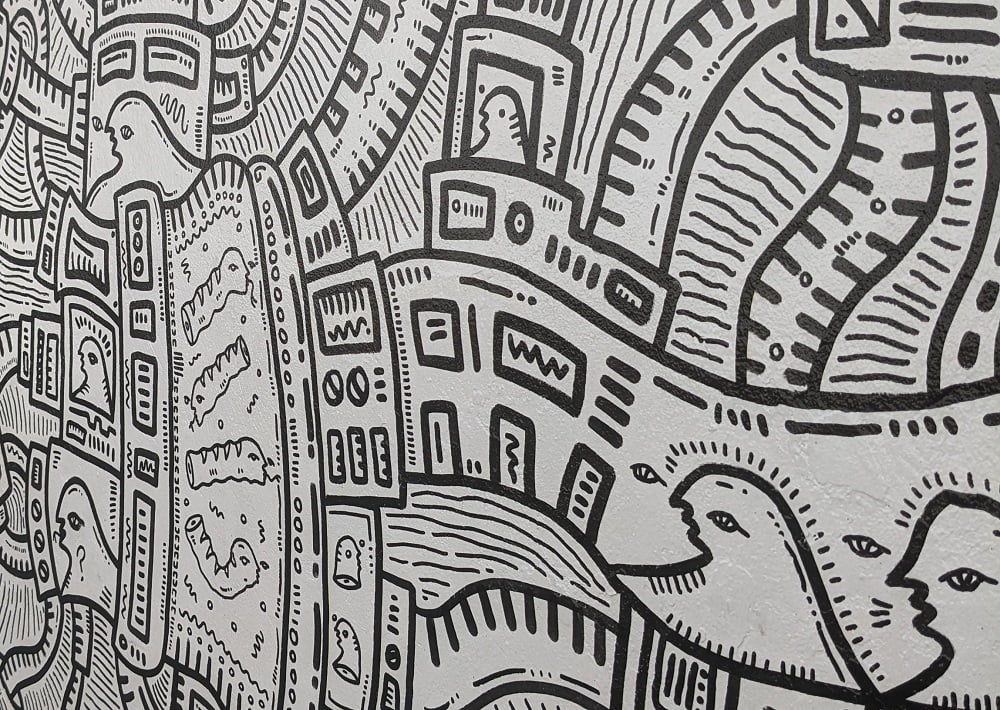 Mural Story
Weymouth born artist, Sockoven found his unique one of a kind style during the pandemic. He has painted walls all across the UK from private homes to local establishments – and now here in the centre of his home town!
Sockoven says: "The idea behind this piece is about dreaming of going to new places and meeting new people but inevitably always ending back where you started. Going around and around the pipe system."
Location 7 – 24 Trinity Road, Weymouth / The Bridge Fair Trade Shop
Mural Name: The Smugglers Map of Weymouth and Portland by Roo (Sarah Hesketh)
Mural Story
Roo has been creating large scale artworks for many years and this mural tells a tale of the history of Weymouth. Roo says: "This old and tattered map of Weymouth and Portland, including three coins from the 1800s, scattered tea leaves and a tea stain on the map, portray items that could have been pulled from the pocket of a smuggler.
"On the map there are two drawings; a pair of smugglers carrying a barrel towards a ship and a local tall ship from the 1800s. An X marks two spots on the maps followed by two dotted lines coming from either drawing. The two X's are at Church Ope Cove (a previously popular smuggling location in Portland) and the location in Weymouth of this mural, pointing towards where treasure could be located!"
Location 8 – Red Lion, Hope Street
Mural Story
Ivy's work takes inspiration from A smuggler's song by Rudyard Kipling. Ivy says: "I wanted to create a mural inspired by Weymouth's rich history of smuggling and the families involved, to bring their stories alive. Emmanuel Charles, landlord of the then Crown Inn at Osmington Mills was the ringleader of the ruthless smuggling 'Charles gang'.
"It is said he was a fearsome man to anyone who got in his way yet had a charming sense of humour and a nerve so bold he infuriated the authorities. He married Elizabeth Hardy of Puncknowle in 1804. Family lore says that the two wheelbarrowed and hauled stones to Osmington Mills to add to the 13th century building, which is now known as the Smugglers Inn, thanks to the Charles family. My mural depicts the Charles family smuggling brandy which was shipped over from France by 'French Peter' Pierre Latour."
Location 9 – WOEC Portacabin, Weymouth Stone Pier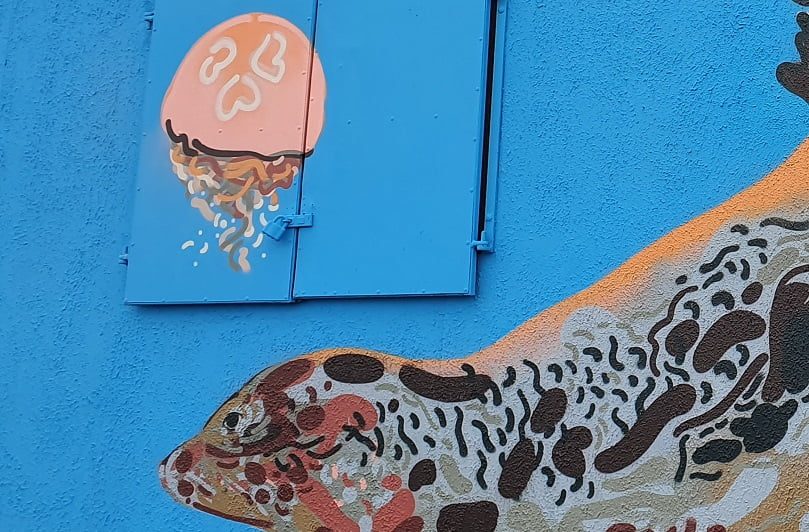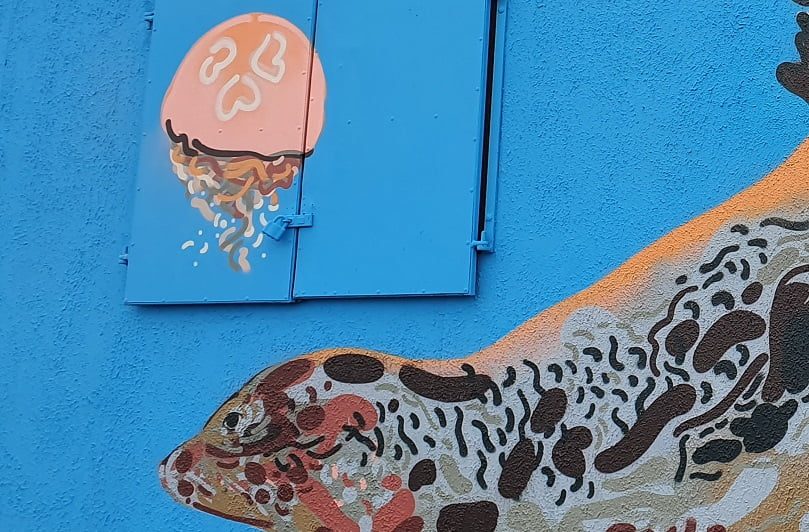 Mural Story
Georgia's playful interpretation of marine life aims to appeal to children and adults alike, and gently reminds us how important it is to preserve biodiversity for current and future generations.
The artist's work 'Life Beneath The Waves' is designed to complement the vibrant urban and coastal colours in and around Weymouth Pier, reinvigorating the building it covers with bold and lively paint. Georgia's design focuses on the rich diversity of marine flora and fauna inhabiting Dorset's expansive coastline.
"I chose native and relatively common species of seaweed and fish based on my memories of Dorset and my contemporary research into the marine biodiversity of the area. As a child I adored finding the sugar kelps, bladderwrack and oarweed depicted in the mural washed up on beaches.
"They always left me with a fascination for what lies beneath the waves, and I feel there is something of my inner child in this creation," says Georgia.
Location 10 – Nothe Gardens, Barrack Road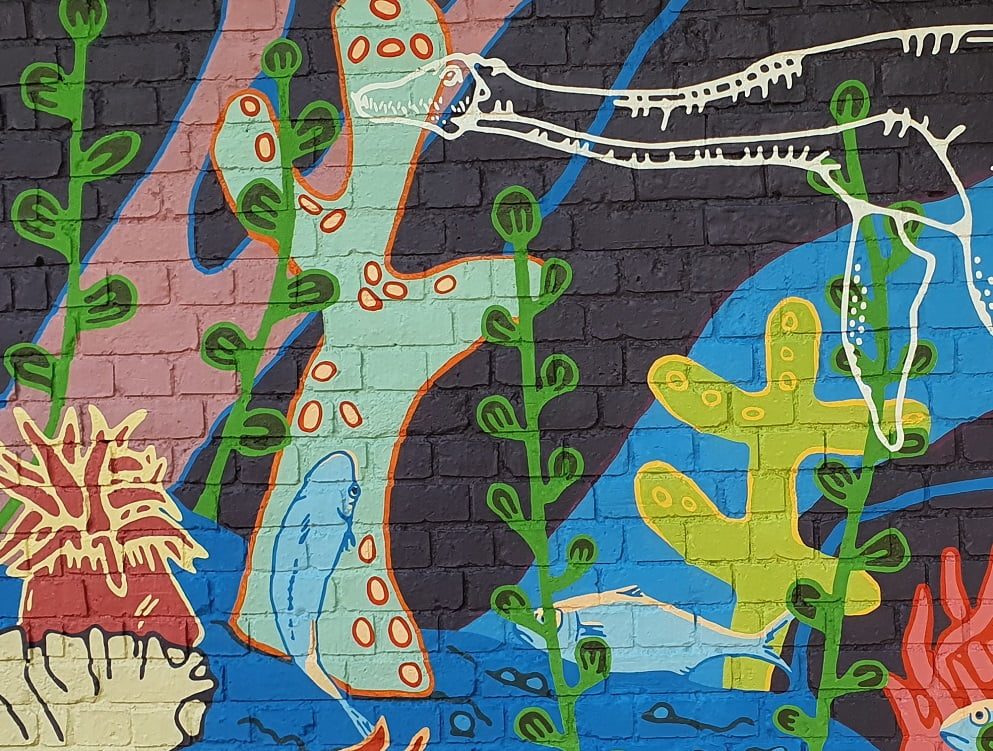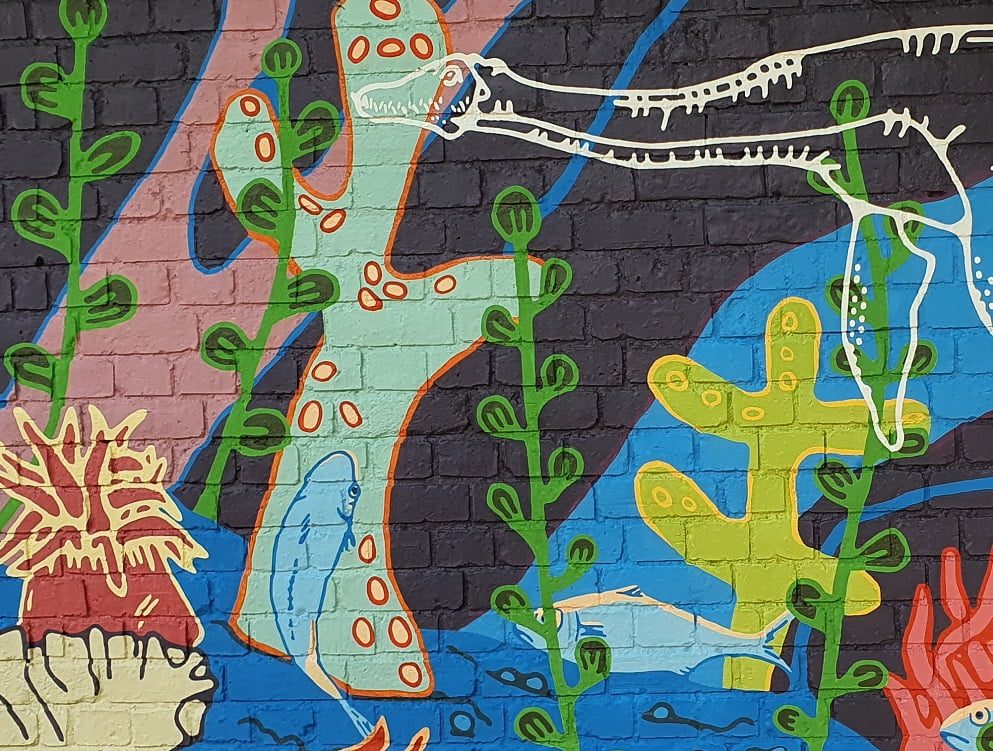 Mural names: Past and Present by Claire Nuttall www.clairenuttall.co.uk
Mural 1. 'Marine'
Present – The diverse marine life, the fishing and diving industry today.
Past – The memory of the Jurassic period and the prehistoric importance of this coastline.
Mural 2. 'Sail'
Present – Weymouth as one of the best sailing areas in the world, recognised by London 2012 Olympic and Paralympic Games.
Past – The memory of the tall ships, and centuries of Weymouth being a significant South Coast port.
Mural 3. 'Peace'
Present – The lovely gardens and natural flora around Weymouth, in peacetime.
Past – The memory of a Weymouth involved in wartime, the naval presence, and the construction of the Nothe Fort.
Mural Stories
Claire is an artist based in West Bay, Dorset and started her career painting film scenery at Pinewood Studios. Claire comments on the three murals: "I loved this location, as it gives me the opportunity to paint three different, but linked murals around the building. I am always interested in the events of the past, and Weymouth has such a rich historical background. With this red brick building, I wanted to paint clean, bold shapes and use specific colours that were complimentary to the lovely, natural surroundings of the Nothe Fort gardens.
"I decided to represent scenes of the present, with the ghostly image of the past, just hovering, not to be forgotten."
---
Weymouth Mural Trail is a partnership between Weymouth Town Council and We Are Weymouth.
Huge thanks to all the artists who have created these fantastic murals for the trail, and to Dorset Arts Development Company for helping us with the selection process.