Queen's Platinum Jubilee Celebrations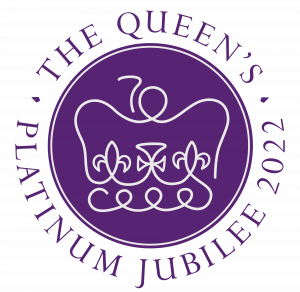 As part of the Platinum Jubilee Celebrations marking the 70th Anniversary year, Weymouth is proud to be involved and be part of the national celebrations. Local celebrations include a free public firework display on Weymouth Beach on the evening of Thursday 2nd June to start the long Bank Holiday Weekend.
Queen's Canopy Project:
On the 70th day of this Platinum year (Friday 11th March), the Mayor of Weymouth, Cllr Colin Huckle planted a willow tree in Radipole Park Gardens to mark the Queen's Platinum Jubilee.
Weymouth Town Council has the pleasure of supporting the Queen's Green Canopy project, an initiative created to mark Her Majesty's Platinum Jubilee in 2022. People from across the UK were invited to "Plant a Tree for the Jubilee".
The willow tree was selected by the our parks team to help reintroduce the weeping willow walk following the natural decline of willow trees in the gardens over some years.
Cllr Colin Huckle, Mayor of Weymouth said: "I'm delighted to be involved with this initiative which celebrates the Queen's 70-year reign of our nation while also enhancing the environment for future generations. It's also fantastic that this will help to reintroduce the Radipole Park Gardens weeping willow walk which has been enjoyed by many throughout the years."
Grants for Jubilee Community Events:
To help the community to put on events to celebrate the Queen's Platinum Jubilee, charity groups, not for profit organisations and schools are being invited to apply for a grant from Weymouth Town Council.
Read our latest news article on how to apply.
A maximum of £500 per group is available to meet the costs of community events over the special bank holiday weekend (Thursday 2nd to Sunday 5th June 2022).
A diverse range of applications will be considered, but examples of events that could be eligible for this funding include community parties, picnics, flower shows, and exhibitions or displays.
This money will not be able to fund street parties in residential streets, however if a community group wished to hold a street party style event in a community hall/space/outdoor green then this may be considered.
Grants are not available for commercial events.
If you're interested in applying for a grant, please download the grant policy and application form – CLICK FOR LINK.
Street Parties:
The UK has a long history of organised street parties to celebrate national events. Why not organise one with your neighbours for the Platinum Jubilee? Visit the government's website for guidance on holding street parties.
If you're holding a street party, you must apply to Dorset Council for a road restriction at least six weeks before the street party is due to take place. Visit Dorset Council's website for more information on this.
Other events across Weymouth:
Friday 3rd, Saturday 4th, and Sunday 5th June – Quayside Music Festival – Weymouth Harbourside.  Live music and entertainment from an outdoor stage adjacent to the Rendezvous, from 12pm to 10pm each day. Full line up to be announced, further information available facebook/quayside music festival.
Friday 3rd, Saturday 4t , and Sunday 5th June – Wessex Folk Festival – Hope Square, Weymouth. The famous Wessex Folk Festival takes place on the first weekend after the late May Bank Holiday around the picturesque Harbourside in Weymouth. Over the past 20 years it has grown to become one of the biggest free folk music festivals in England and one of Dorset's favourite events, with live music and morris dancing creating a unique street party atmosphere.
The 2022 Folk Festival will have a slightly different format to tie in with this year's Jubilee Bank Holiday celebrations. Pub sessions and workshops will begin on the Friday night (June 3rd) and continue throughout the weekend. Dancing will be at sites around the town on the Saturday (June 4th) and on the Quayside on Sunday (June 5th). A stage in Hope Square will host musical performances throughout the day on Sunday, followed at 5pm by an outdoor Ceilidh in the square so that everyone can end the weekend dancing.
Check the website www.wessexfolkfestival.com or Facebook www.facebook.com/WessexFolkFestival to keep informed with updates.
Bincombe Bumps Campsite
Caius Copse, Bincombe, Weymouth
The race is on to become the King and Queen of the Bincombe Bolt in our Charity Race supporting Dorset County Hospital Charity and Cancer Research UK. Enjoy the Dorset... Read More