Work begins on enhancing Radipole Park and Gardens
29th June, 2023
A new refreshment kiosk, play area, sensory garden, and toilet facilities are just some of the enhancements being made to one of Weymouth's hidden gems, as construction work starts on site at a popular park.
Weymouth Town Council, working with the Friends of Radipole Park & Gardens, received just over £1 million to redevelop and make improvements to Radipole Park and Gardens from the National Lottery Heritage Fund.
Located off Radipole Park Drive and running alongside the RSPB Swannery nature reserve, a key feature of the revamped park will be to highlight its hidden heritage through interpretation boards and activities that will make it fun and engaging for all ages to explore.
Construction work is taking place from now until mid-December, during which time access to some parts of the park will need to be restricted, including the existing play area. This is so that the contractors, Ground Control Ltd, can carry out the huge schedule of works which will lead to multiple improvements for people to enjoy for many years to come. The amenity grass area at the north of the park and the formal gardens to the south, along with the tennis club and small car park will remain open to the public throughout.
Cllr Ryan Hope, Chair of Services Committee, said: "It's fantastic to see work starting on site to transform our beautiful Radipole Park and Gardens, making it even more attractive for people to enjoy visiting. As well as the much-needed kiosk and toilet facilities, the basketball and tennis courts will be resurfaced, there will be a brand-new play area, improved car parking area, and new trees and a wildflower section will also be planted. Once completed, the park and gardens will be enjoyed for generations to come. I'd like to add my thanks to the Friends of Radipole Park and Gardens, and the National Lottery Heritage Fund for working with Weymouth Town Council on this project."
Stuart McLeod, Director of England – London & South at The National Lottery Heritage Fund, added: "We know that parks are integral to our communities – they offer a place for nature to thrive, a space for communities to meet and improve our health and wellbeing. Thanks to National Lottery players, we are proud to support Radipole Park and Gardens in this important restoration, that will offer much-needed improvements and help to connect people to the green space on their doorstep."
Other enhancements include a new path across the amenity grass area, relocated and resurfaced multi use games area, interpretation boards showing the park's history, a new area for playing Pétanque, new outdoor table tennis tables, and an orienteering course.
There will still be some activities taking place in the park over the summer and the autumn while work is carried out, followed by an official park opening and full programme of activities and events in 2024. Further details will be released as the project develops.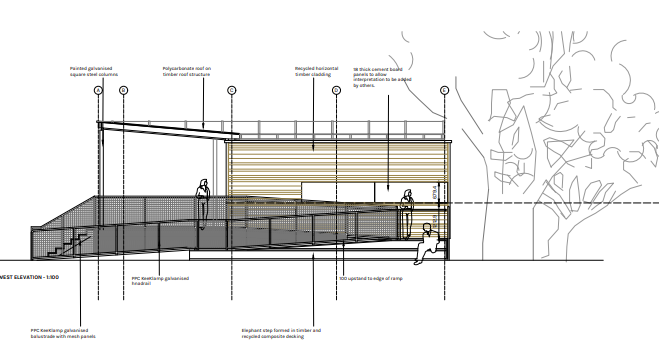 How the new heritage kiosk will look once built, pictured left
ENDS
Notes to Editors
The latest information and updates about the ongoing construction works will be shared on Weymouth Town Council's website, Facebook, and Twitter pages.
The Friends of Radipole Park and Gardens will also be sharing updates, including activities taking place in the park. Visit their website for more details.
About The National Lottery Heritage Fund
Using money raised by the National Lottery, we Inspire, lead and resource the UK's heritage to create positive and lasting change for people and communities, now and in the future. www.heritagefund.org.uk.
Follow @HeritageFundUK on Twitter, Facebook and Instagram and use #NationalLotteryHeritageFund
Since The National Lottery began in 1994, National Lottery players have raised over £46billion for projects and more than 670,000 grants have been awarded across the UK – the equivalent of more than 240 lottery grants in every UK postcode district. More than £30 million raised each week goes to good causes across the UK.