Mayor Welcomes Louisa Summer to Weymouth after her Charity Bike Ride
11th July, 2019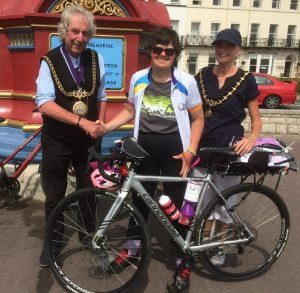 The Mayor of Weymouth Cllr Graham Winter, along with his Mayoress, Mrs Mary Winter welcomed Louisa Summer to Weymouth on Monday. Louisa had undertaken a fantastic ride for charity from Dawlish to Weymouth, completing it in just three days. Louisa's route was 3rd July Dawlish to Exmouth, 4th July Exmouth to Seaton and 5th July Seaton to Weymouth. Louisa then recuperated in Weymouth for the weekend.
Louise said 'I'm doing this particular ride from Dawlish to Weymouth for many reasons but my main reason for doing what I do is because I'm one of 1000 of people who have or being diagnosed with a no cure neverending difference called Autism. My Autism is Asperger's syndrome and it is also to mark my 50th birthday as well, this is my firth challenge for the national autistic society and I've raised over £3,000 altogether.
I enjoy my fantastic cycle rides, last year I did my first coast to coast Weston-super-Mare to Southend-on-Sea.