Great Summer Fireworks Programme
2nd August, 2019
The Fabulous Firework Displays in Weymouth this summer are under way. The last in the season of free fireworks displays, with magnificent views from Weymouth Seafront, will take place on Sunday 25th August. The display starts at 9:30pm.
Weymouth Town Council would like to congratulation Coral White for winning the Seafront Summer Firework Competition on the 11th August. Ms White wins £500 plus a short break at Haven Littlesea or Weymouth Bay Holiday parks. Thank you to Alexandra Gardens for supporting the Firework Competition.
The next competition will be at the Seafront Fireworks on Sunday 25th August.
The summer fireworks will complement the bumper Weymouth annual events programme, consisting of over 200 individual events, organised, supported and enjoyed by numerous community groups, sports clubs and event organisations. This year's blockbusters include Quayside Music Festival (24th & 25th August), Ironman 70.3 Weymouth (22nd Sept) and Lions Beach Motocross (13th Oct).
Weymouth Town Council – Chairman of Services Committee, Cllr David Northam said
"The fireworks in Weymouth are always extremely popular with audiences regularly exceeding 10,000 people, creating a unique family fun atmosphere on Weymouth Seafront throughout the evening. We are delighted to announce the summer firework programme and would like to express our thanks to many local businesses for their enthusiasm and support, they include Weymouth BID, Haven Littlesea and Weymouth Bay, Alexandra Gardens, Aura, The Boat and Weymouth Pavilion".
Weymouth BID Ltd, Chief Operations Officer, Claudia Moore said
"Weymouth BID is proud to support the Weymouth fireworks this summer – they are a much-loved tradition and we hope to bring visitors and locals into the town for the evening so they can enjoy the wonderful restaurants and entertainment on offer".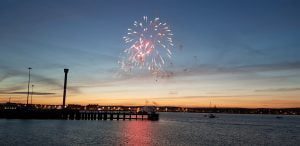 General Manager, Haven Littlesea, Andy Bell said
"Haven are delighted to be supporting the 2019 summer firework displays and understand just how important these fantastic evenings are to the visitors to the area and local residents – a real summer highlight.
At Haven we do our very best to invest in the community, working with local schools, our main charitable partner the RNLI who also celebrate their 150th anniversary this year and most recently becoming proud partners of Team GB.
We hope the firework displays kick start a jam-packed summer of wonderful events across the town and we're delighted to be able to be a part of it".
Each firework evening, visitors will be able to stroll along the Esplanade and enjoy the wonderful atmosphere and entertainment of Weymouth Seafront, including the famous Punch and Judy shows.  They can also enter the popular "Win £500 Cash" Firework Competition, and there's also the chance to win a fabulous short break at either Littlesea or Weymouth Bay, two of Haven's award winning holiday parks. The competition is supported by Alexandra Gardens and Haven Littlesea and Weymouth Bay. Entry details and conditions for August 25th can be found above. You can also enter on the firework nights at Alexandra Gardens Pleasure Grounds between 7pm and 9pm. Competition entry is free!