2019 Weymouth Armed Forces Celebrations
26th June, 2019
The 2019 Weymouth Armed Forces Celebrations took place last weekend (22nd, 23rd & 24th June) it began on Saturday with a display of historic military vehicles along the seafront that later journeyed to the Osprey Leisure Centre for the afternoon.
On Sunday, the Service and Parade in which over 1,500 veterans took part and marched along the Esplanade to over 20,000 residents and visitors lining the Seafront. Each Division was led by a marching band – South Wales Police Band, the Wessex Military Band, the Dolphin Marching Band and the Guards Division Corps of Drum Association.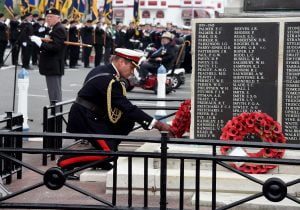 Following this more than 80 historic military vehicles and motorcycles from the RBL Rider Branch paraded along the Esplanade.
Some footage of the Parade can be viewed at: https://youtu.be/FsQ7qsKCHj8
On Monday, The Armed Force Flag was raised by Mayor of Weymouth Cllr Graham Winter and Rick Ritter, Chairman of the Gloucester Branch of Aden Veterans outside the Weymouth Town Council offices on Commercial Road. They were joined by over 50 local and visiting Veterans. Weymouth's flag raising ceremony is one of several that happened across the country as part of 'Fly a Flag for our Armed Forces'.
Veterans have made, and continue to make, a major contribution to our nation. The Weymouth Armed Forces Day Celebrations is an opportunity to recognise and celebrate the tireless work carried out by veterans and their associations.
The dates for the 2020 Weymouth Armed Forces Celebrations are Saturday 20th, Sunday 21st and Monday 22nd June 2020. Further information will be available in due course, however if you have any questions, please contact us through the Contact Section of this website.