Meet the team: Alan
Meet Alan, Working Chargehand for Weymouth Town Council.
Alan has worked for the local council since 1986, maintaining parks and other public spaces. He knows the area inside out, which is necessary for the varied role he has today.
"I didn't really enjoy school, but I did go to a school club which got me into gardening. It was my father who got me the job with the council. I came home one day to be told I had an appointment at the council office and that was that! I started as a summer temp originally, but I ended up staying as I enjoyed the work."
Alan started working with colleague Bryn soon after joining the council. Together they worked on a range of tasks and projects. This included shrub work, planting and maintenance, as well as planting roundabouts including the annual Manor roundabout design.
As Working Chargehand, Alan now oversees the Parks team's day to day needs and keeps everything running smoothly. One of his responsibilities is to look after Weymouth's allotments. There are over 300 plots in total!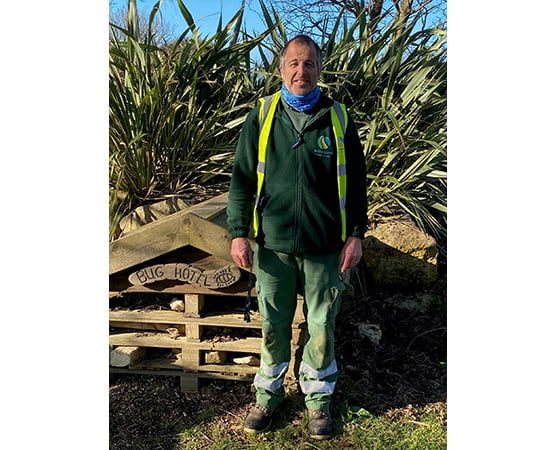 "I enjoy looking after the allotments as I can see how much of a difference they make to local people and their wellbeing. I used to have my own allotment too but decided to start planting in my own garden instead."
Alan's top tip for looking after your own allotment is to maintain it little and often, never letting the work build up too much.
Another important part of Alan's role is plotting and digging the graves at Weymouth's cemeteries. From selecting space to operating the digger, Alan looks after the whole process.
"It's a big responsibility, because it's such an important thing to get right and you want it to be perfect for those people who are saying goodbye to loved ones."
As a qualified Play Inspector, Alan used to check play equipment in our parks and he's often called if there's any broken equipment in the play areas.
Certain jobs require a rapid response and Alan is generally working on something different each day. When the council were alerted about the damage at Sandsfoot Castle, Alan was first on the scene putting up fencing to keep the public safe.
In his spare time Alan is Chairman of Weymouth's Drama Club, a charity who put on a busy schedule of youth theatre and adult productions every year. Alan's role here is mainly behind the scenes, arranging and painting the sets. Sadly, due to the pandemic, productions are on hold for the moment, but they hope to return soon.
Alan's favourite Weymouth spot is by The Fleet, as it's a great place for dog walking.